| | |
| --- | --- |
| | Lubrication and Demolding (hard chrome plating and Hard Anodic coating) |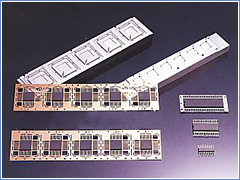 Our offerings also include Cr-F chrome coating with easy-to-demold properties found through development of semiconductor package molds, as well as special coatings that can be best suited to resins in use. We use hard chrome (Cr-C4) to provide strong coating (over 1,100 HV) that is also easy to demold.
One particular feature of this method is an application of fluoric powder not only on the surface of the coating but also inside the coating. Fluric powder, due to its soft nature, is soon lost from the surface when molds are repeatedly used for casting, leading to a loss of ease in demolding.
Hard chrome coating, however, can offer a high level of resistance to ablation, as well as ease in demolding.
This is a unique process developed by Denkahimakukougyou to meet the challenging needs of the semiconductor industry. The treatment is applied individually to each component of the mold before assembly. Coating is limited to sections where the coating is necessary in order to retain a high level of accuracy in assembling the components.
Recently some types of resin have displayed particular difficulty in demolding. If demolding with the Cr-F coating does not produce the desired results, please consult with us about other options. We may be able to provide alternative proposals or develop original coatings that better suit your needs. We can also assist those having trouble with demolding in areas other than semiconductor package molds.
Hard Anodic coating + PTFE
Below is an example combining fluoric material with Hard Anodic coating coating using our Cr-F technology. The skill is recommended for articles requiring surface slip properties. The use of Hard Anodic coating for base materials offers high resistance to ablation.
| | |
| --- | --- |
| Hard Anodic coating + PTFE | HAM-F |